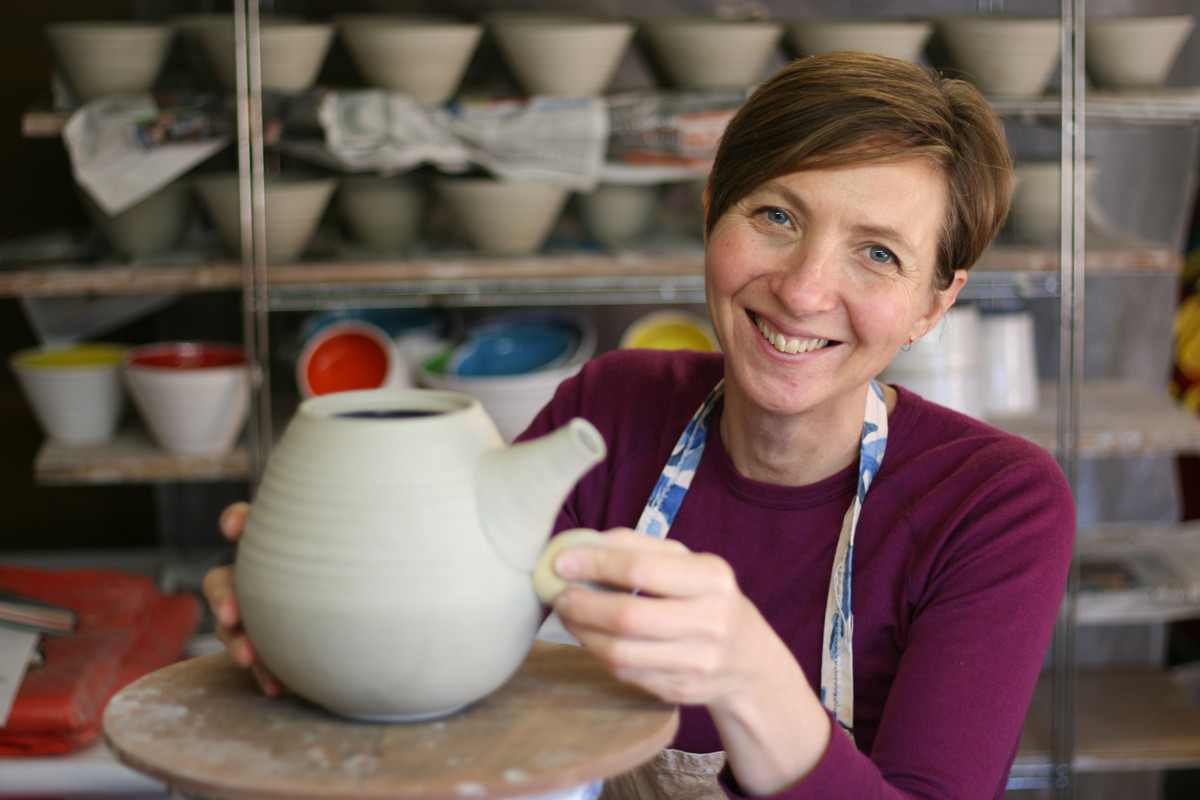 Unique and handcrafted by myself, I make beautiful pots for everyday use- pots that aesthetically enhance life's daily routine and special occasions.
My love of providing food for family and friends, sharing everyday and memorable moments around the kitchen table, is the starting point for all that I make - from the morning cup of coffee to the most meaningful celebrations. My contemporary tableware is designed to show off food and drink as well as being fully functional, comfortable and tactile to use.
I love pops of colour, both in what I wear and dotted around the house as well as the contrast of muted greys, all of which is reflected in the pots I design and make.
I fell in love with pottery at the age of 14 when I picked up a Dartington Pottery mug at a local gallery. It was thoroughly modern in both form and decoration, comfortable to hold , an everyday object infused with beauty. This was the 1980s and my love-affair with ceramics continues to this day - particularly functional ware.
From an apprenticeship at Dartington Pottery to producing my own work in a basement studio in Rome, three children and several pets later, I began making pots again in 2013 from my home-based workshop located in the heart of the Hampshire countryside. A tranquil and inspiring setting for me to work from.

As well as selling my pottery at fairs, through a number of makers' shops, galleries and my website, I also run pottery workshops at my studio which I greatly enjoy.
To view my available range go to Products.
If you have seen a piece on instagram that is unavailable on my website at present or you'd like to commission a piece then email me at justinejennerpottery@gmail.com
If you want to find out what's involved in making one of my pots then read on.


MAKING PROCESS
WEDGING AND WEIGHING The ready made clay needs to be wedged (a type of kneading) in order to make it ready for throwing and then lumps weighed out depending on what I'm making.
THROWING By far the most exciting and captivating part of the making process for me! All my pots are thrown on a potter's wheel using either white or terracotta earthenware clay. This clay is fired at a lower temperature to stoneware and porcelain and therefore produces a pot that has a pleasing warmth and softness to it. Most pots are made using a specific weight of clay to specific, recorded measurements.
TURNING Once the pots have dried to a leather hard stage they are turned on the wheel (trimmed and shaped to produce their final form) with metal tools.
ADDITIONS & FETTLING Handles are pulled (formed by a pulling technique rather than by extrusion through a forma)and added to jugs and mugs, pouring lips formed on jugs, colour stain painted on where needed, bits of unwanted clay scraped and sponged off - fettling- and my personal maker's stamp added to the base of each pot.
BISQUE FIRING Once the pots are bone dry they are loaded in to the kiln for their first firing (this can take up to 4 weeks to make enough work to fire the kiln) and then fired to a temperature of 1000 degrees centigrade over a period of 12 hours.
GLAZING The cooled bisque ware has wax resist applied to their bases. This is to stop the pots from getting glaze on their bottoms which would cause them to stick to the kiln shelves when fired.Glaze is poured into the pots or they are dipped in to a variety of glazes. The glaze dries on each pot in a matter of seconds to form a powdery coating. Drips are scraped off and bottoms wiped clear of glaze.
GLAZE FIRING The pots are loaded in to the kiln for a second time to be fired to 1150 degrees centigrade over a period of 9 1/2 hours.
SANDING The unglazed bases of the finished pots are sanded to produce a smooth, pleasing, tactile finish.
All in all the making process can take anything from 3-6 weeks to complete!